Danish artist and portrait painter
Peter Simonsen
Abstract expressionist painter specializing in the art of portraiture. Living and working in Aarhus, Denmark. Born in 1957.
The works are rooted in expressionism and are often created in an impulsive and very intensive process. Abstract portraits and motifs, strong colors and symbolism are part of the artistic universe. The inspiration comes from existential topics, experiences in life, people I meet, nature and music.
Selected exhibitions:
'A Tribute to th Music - Vol. 1'
'The Creation RMS&' (in Danish)
Artist by detour...
- I have always been interested in art and admired some of the great masters. But my way in the world of art has not been straightforward. I had to go in a different direction before, I felt that now was the time to replace the world of advertising with the world of art. I took the first step into the world of art around 2012-13
- The portrait has always fascinated me. The face. The eyes – the mirror of the soul. Deeply fascinating. To face a person and talk about everyday things. Suddenly, the "mask" drops – the person who sits in front of me begins to relax. It is now, the face begins to tell the story of who the person is. It is now, I start to work.
- I draw and paint more than just portraits, but the portrait has a special place in my artistic universe.
- Live portrait painting at the exhibition 'AlleTiders Kunst 2018' in Ridehuset, Aarhus. I was invited by Lions in Aarhus.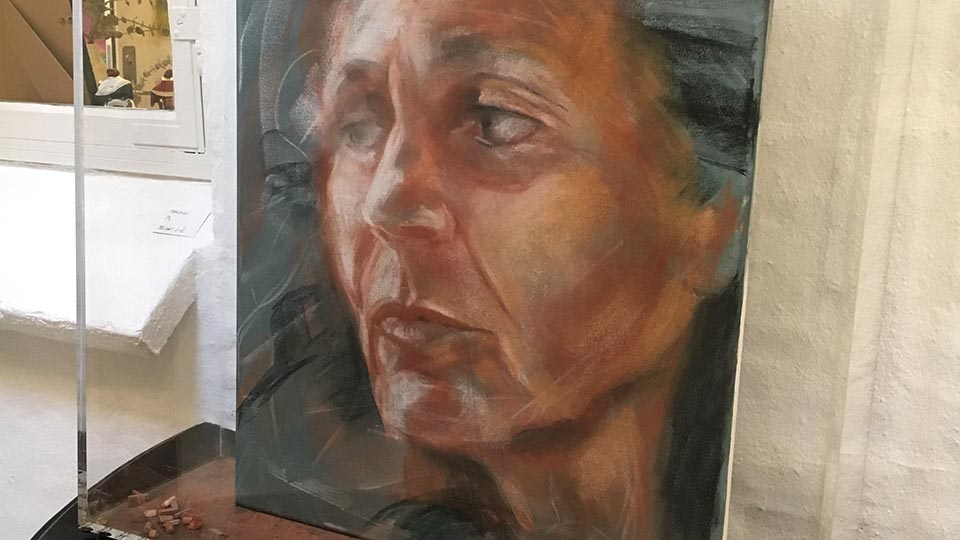 - The goal is to portray the person behind the portrait and catch a glimpse of something undefined. The installation 'Fragile' is a portrait of a woman. The canvas is mounted inside a transparent acrylic display. Has the artist finished the portrait? Is the painting in the process of deterioration? Does the painting show the fragility in the portrait of the woman? Many questions asked - but no simple answers.
Download the book:
'Abstract Expressionism - Danish portrait painter Peter Simonsen' (PDF).