Portrait painter, Peter Simonsen (PS)
Self-taught artist specializing in the art of portraiture. Living and working in Aarhus, Denmark. Born in 1957.
Abstract expressionism
The works are rooted in expressionism and are often created in an impulsive and very intensive process. Abstract portraits and motifs, strong colors and symbolism are part of the artistic universe. The inspiration sources are experiences in life, man, nature and music.
Of course, one must recognize the person I portray ... but I do not aim for photographic realism in the portraits I draw and paint. Rather an expressionist expression in which I seek to portray the person behind the portrait - and catching a mood.
Artist by detour
In fact, I should have been a building designer - but after 14 days, with straight lines either "pointing" north-south or east-west, I could feel that my future was not there. I needed the pencil to work a little more freely ... the world of advertising gave me this opportunity.
I have always been interested in art and admired some of the great masters. But my way in the world of art has not been straight forward. I had to go other ways - before, I felt that now was the time to replace the world of advertising with the world of art. I started seriously painting around 2012-13.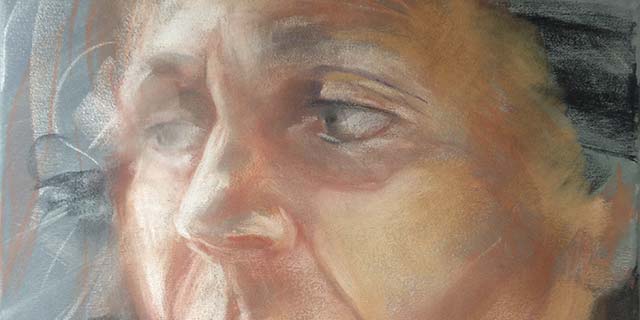 - The goal is to portray the person behind the portrait and catch a glimpse of something undefined.
The portrait fascinates
The portrait has always fascinated me. The face. The eyes - the mirror of the soul. Deeply fascinating. To face a person and talk about everyday things. Suddenly, the "mask" drops ... the person who faces me begins to relax. It is now, the face begins to tell the story. It's now, I'm starting to work.
And when that happens, I can feel it in my body. The adrenaline pumps faster.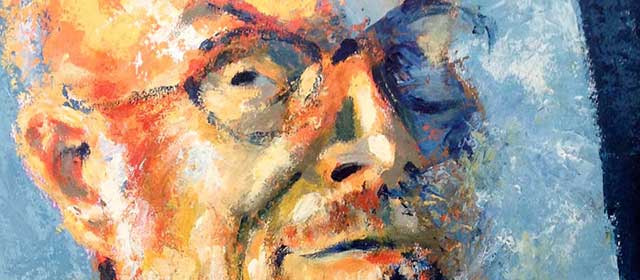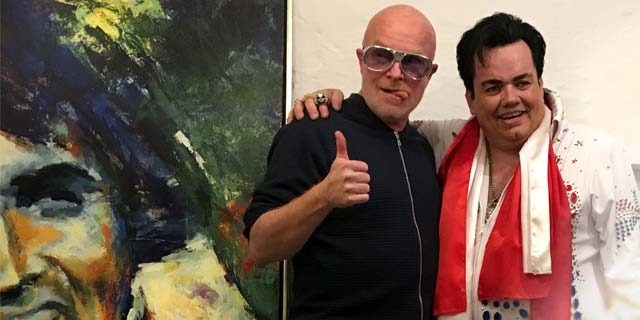 Danish portrait painter Peter Simonsen together with Mike Colin Andersen in front of a very large portrait painting of Elvis Presley.
Portrait art is a very specific discipline in the field of visual arts. Is it staged or is it reality? Is it a flattering representation or is it striving for a photographic realism in the portrait? Or does the artist create more revealing portraits that show the "inner I"...? The latter is obviously seen from the artist's point of view.
View some of my portraits and other paintings (information in Danish)...
ART GALLERY PS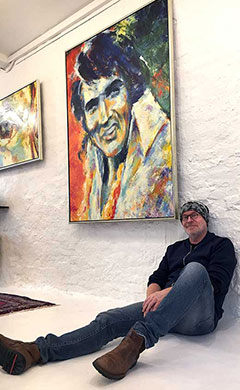 Danish portrait painter Peter Simonsen has created a very large portrait of Elvis Presley. The painting is exhibited alongside other fan art portraits at Art Gallery PS.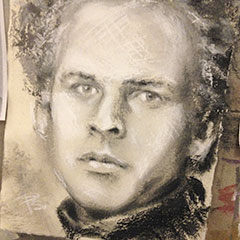 The portrait of Art Garfunkel is a drawing created with chalk on cotton.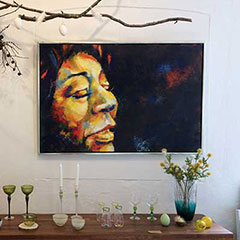 The portrait of Ella Fitzgerald was painted from 2016 to 2018.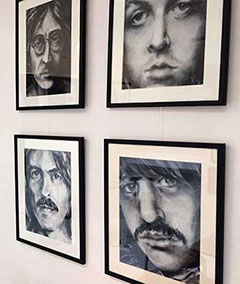 Chalk drawings of The Beatles (John, Paul, George and Ringo) created in 2017.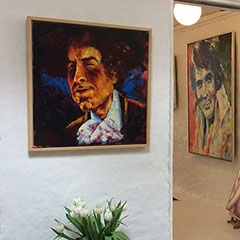 The portrait of Bob Dylan was painted back in 2012-2013 by portrait painter Peter Simonsen.